Printing Date Codes, Batch Codes and Use by Dates onto products
There are a variety of ways to print date and batch codes onto food, packaging and secondary packaging.  The best solution for you will be dependent on the substrate material you need to print on to and your production set up.
---
BJ's Printing Systems is a Tasmanian owned and operated business who will work with you to determine the best solution for your business.  We also provide personal service, and a commitment to ensuring your labeling, coding and identification requirements are the most efficient and cost effective they can be.
Solutions BJ's Printing System can offer for printing date codes, use by dates and batch codes include:
Small Character Ink Jet Coding -A non-contact solution that allows printing onto a wide range of substrates even on high speed production lines.
Large Character Ink Jet Coding -Ideal for printing onto secondary packaging, porous substrate such as corrugated outer cases, sacks.
Laser Coding – Etching or vaporizing the surface layer to leave a permanent mark, laser coding is cost-effective with no ink or fluids required.
Thermal Ink Jet Printing – High quality, high speed printing with fast drying ink on a range of porous and non-porous substrates.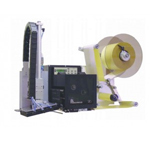 Print and Apply Labeling – Designed to print and apply high resolution labels onto products as they move along a production line.
Find out more now