Labelling Products
Product information, barcodes, company information and any other information can be added to your products via a label.  Labels can be pre-printed or printed and applied with a label applicator, on the production line and applied via machine,  or, for smaller operations, printed and applied by hand.
The product you will be labelling and the speed of your production line will determine the best solution for labeling your products.
---
BJ's Printing Systems is a Tasmanian owned and operated business who will work with you to determine the best solution for your business.  We also provide personal service, and a commitment to ensuring your labeling, coding and identification requirements are the most efficient and cost effective they can be.
Solutions BJ's Printing System can offer for labelling products include:
Thermal Transfer overprinting – used for coding flexible packaging by melting a resin-based ink onto the substrate.  The substrate can be stationary or continuously moving depending on the product line design.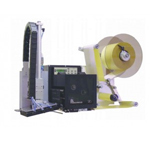 Print and Apply Labelling – Designed to print and apply high resolution labels onto products as they move along a production line.
Desktop Printing – For smaller operations, on demand label printing from a desktop printer can be the ideal solution.  Printing onto blank or pre printed prime labels.
Find out more now