Adding ingredient and nutrition panels to products
Ingredient and nutrition panels of produce is a requirement for all products sold in Australia.  The type of product and packaging of your product will help determine the best method for applying this information.  Methods include applying pre-printed labels or printing/marking the products directly on the production line.  The speed of your production line will also be a determining factor in selecting the best equipment for the job.
---
BJ's Printing Systems is a Tasmanian owned and operated business who will work with you to determine the best solution for your business.  We also provide personal service, and a commitment to ensuring your labeling, coding and identification requirements are the most efficient and cost effective they can be.
Solutions BJ's Printing System can offer for adding ingredient and nutrition panels to products include:
Large Character Ink Jet Coding -Ideal for printing onto secondary packaging, porous substrate such as corrugated outer cases, sacks.
Thermal Transfer overprinting – used for coding flexible packaging by melting a resin-based ink onto the substrate.  The substrate can be stationary or continuously moving depending on the product line design.
Thermal Ink Jet Printing – High quality, high speed printing with fast drying ink on a range of porous and non-porous substrates.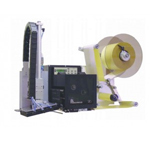 Print and Apply Labeling – Designed to print and apply high resolution labels onto products as they move along a production line.
Find out more now